DELTA's state-of-the-art Push-Pull Pickling Lines are the result of extensive research and development, yielding the most effective methods for preheating, acid-concentration control, stain-free rinse, and turbulence/temperature control. As a result, DELTA's Pickling Lines ensure a high-quality pickled coil within a minimum dwell time. The line is virtually fume-free, and all roll openings are made with flexible covers to restrict acid splash.
Pickling Line Applications
DELTA's Push-Pull Pickling Lines are capable of processing from 1,000,000 tons of HR coils per year ranging in thicknesses from 1.00" (25mm) to 0.039" (1mm) and run at line speeds up to 700 fpm (213 mpm).
DELTA also supplies Continuous Pickling Lines for ferrous and non-ferrous metals.
High Quality Pickled Coil
Our Push-Pull Pickling Lines meet our customers' critical needs for high productivity and quality while taking every precaution to ensure the environment is protected. DELTA teams with producers and operators of Acid Regeneration Plants (ARP) to recoup the spent acid generated from a DELTA Pickling Line. We begin the process by first discussing the best use of the resultant product generated by the ARP to make sure the best possible environmental footprint of the installation is obtained.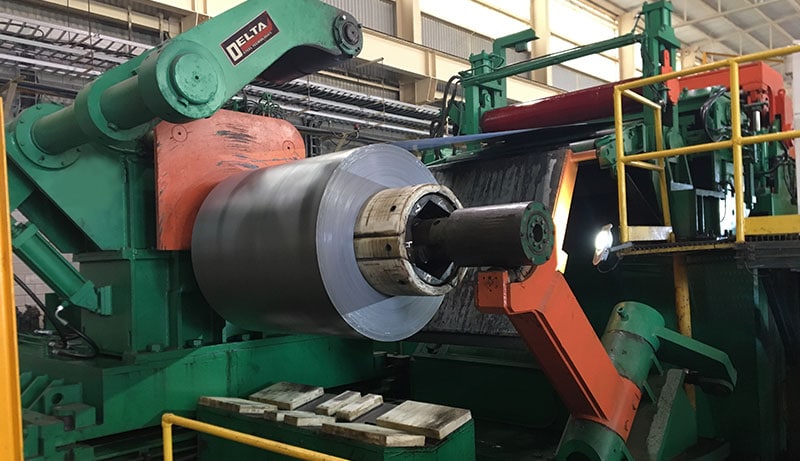 Coil Processing Equipment
Texas base, OEM specialized in the design and manufacturing of Flat Rolled Metal Processing Equipment built for Steel Mills and Service Centers based around the world.
Other Delta Steel Equipment